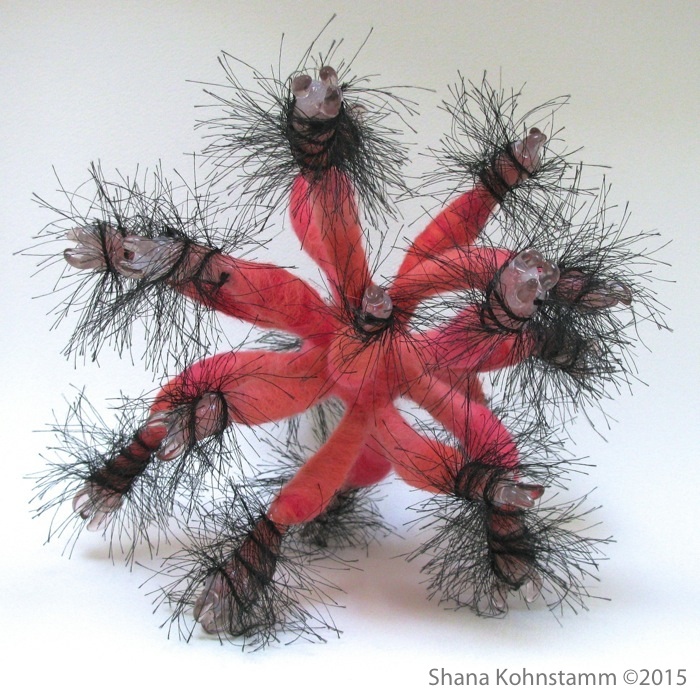 I have been cultivating a new habit of  journal writing in the morning instead of picking up my internet. It's a very useful practice but then I don't really feel like writing again during the day...hence the two month blog absence. Did you get my Spring newsletter???   CLICK HERE.  It included all this:
Aculeus" Rides Again + upcoming shows
Touched: A soft sculpture exhibition
Periscope Artist Entrepreneur Program
Dyeing House Gallery collaboration
Newest Work
An About Face(book)
This week Dyeing House Gallery will finally publish the long-awaited interview and they are promoting it as a "mystery", even though I've been talking about it for months now. The pieces I made for this have all received proper titles (Flocculent Succelent, Florapod, Pillowed and Santuario) and will be offered at reduced prices for charity. Being their first artist in this program came with a few hiccups though overall it's been a very worthwhile endeavor. Annalisa Chelli has been a sweetheart to work with!
"Sheebie Jeebie" is now on display at Turnip Green Creative Reuse as part of the Nashville Collage Collective show. It's so fun to see it out in the wild!
On Friday I'll drive to Memphis for the opening of Art of the South at Hyde Gallery, Memphis College of Art. I haven't been to Memphis as an adult so this will be an adventure. Apparently, the opening will be held during a monthly Trolley Night, where all the art galleries and businesses on South Main will be open and the trolleys run for free. I decided to treat myself with a night's stay at the Peabody Hotel!
That's all for now... and keep your eyes on my Facebook page. I'm feeling like a give-away will happen soon!